LITERATURE:
Reading was my passion long before I learned that so many of my ancestors were writers. To this day, I'm still attracted to the well-turned phrase, and cry my eyes out over a book like Edith Layton's The Duke's Wager And you don't want to know how many times I've read and reread Tolkien's "Lord of the Rings".
I didn't love all poetry as a child, but there were poets - like Matthew Arnold - who helped me through the pains of adolescence. I'd memorize poems like A Summer's Night, or Dover Beach, or The Forsaken Merman, and recite them as I walked, pacing myself to the rhythm of the words. Here, in this website, I can surround myself with these well-loved words and memories, and share my love with you.
I had heard that my father was a poet as well as a soldier, and I became obsessed to find the poems and, through them, the man I never met (mother left when I was 6 weeks old, though he tried desperately to get her back).
Mother had become a large frog in a small pond when she was forced by the depression to leave University of Chicago and spend her last year at Texas State Women's College. While there, she had gone to dinner with Frank Lloyd Wright and Robert Frost, and had given each of them a book of my father's poetry. My search for that book is what this whole website, and my genealogy quest, was all about. In 2001, I found the poetry column through which my parents courted, and in 2012
I finally found father's book!
The foreward says "Corporal Van Dusen [sic] is an outstanding military poet. Perhaps in time he may become a great poet. The best wishes of Our Army go with him." So I've finally touched the man, even if only through past pages. My thanks to you for sharing with me my joy.

My current passions are Lord of the Rings and Harry Potter. I came to both late, through the movies rather than the books, but I've gone back to the books and fallen completely in love with Legalos and Gimli and Professor Snape.
Father's Poetry
Father's Love Letters
Richard's Love Letters
Favorite Poets
Favorite Authors

MY WRITING:
Thinking of myself as a writer came quite gradually. I'd spent too many youthful years trying to prove that I was a scientist and not, as mother claimed, a writer. But as I wrote computer book after computer book, I discovered that changing styles and satisfying an audience was fun.
I started writing poetry when I started this website. Like eastern art, poetry has a spareness and a control that lends itself to the sleekness of a webpage.
From mother came the leavening,
From grandfather the flour.
Grandma poured her spirits in
And brother, sugar's power.
Father was a phantom
And with him went the salt.
He died when I was just a child
So it's really not his fault.
I stood beneath the branches
And asked his family tree
If all the nuts upon the ground
Were fruitcakes just like me.
And then I found screenplays. Oh, but they were beautiful. It draws you into a long relationship with your characters, but you have to approach them with great control - something I find very appealing. I've written two agented movie scripts and one agented TV script. My agent mailed the TV script on Tuesday and the producer called on Thursday. Unfortunately, they needed a Canadian writer.
My other writing projects have included a self-help book on slowing down the perception of time, and an illustrated book of Night Before Christmas and Henry Livingston, done for Locust Grove, a museum on Henry's farm, which later became the home of Samuel Finley Breese Morse, wo married Henry's descendant and invented Morse Code.
It took me a while, but I finally combined my love of Henry and art and produced three books: a Kindle biography of Henry, a Kindle and paperback illustrated book of Henry's poetry, and a Kindle and paperback illustrated book of Night Before Christmas.
A Thought While I Can Still Remember
Surname Forests - Remembered Leaves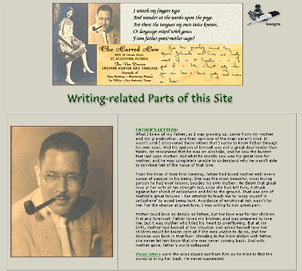 Writing-Related Parts of This Site